Complementary Load Test
Let us test your battery free of charge


Free
Battery Replacement
Gel batteries and hybrids higher
Starting at
$184.95
Keep Your Battery Healthy and Whole with the Service Team at Towne Toyota
When it comes to your Toyota, keeping it at peak level is important. Many different systems work together to keep everything operating smoothly including your Toyota's battery. It keeps your music pumping, your lights cutting through the night ahead, and it provides the spark necessary to get your engine going even on the coldest mornings. Here at Towne Toyota, we employ a team of factory-trained technicians who know all things Toyota, and we're happy to get you in for an appointment if you suspect something isn't working properly with your vehicle's battery. Stay alert and watch for signs that you might need a replacement, then just give us a call and we'll take care of the rest!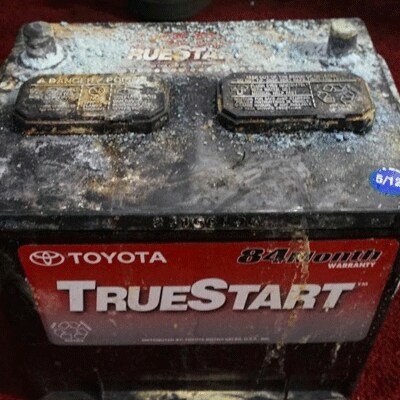 (example of a bad battery)
Signs Your Battery Needs Service
There are a few indications that your battery might be nearing the end of its life. Keeping it healthy is essential to the performance of your vehicle. If you don't want to get stuck on the side of the road waiting for a tow, pay attention for the following signs:
Dim Lights or Electronics Not Functioning Properly
If your electronics aren't functioning the way they used to, or your headlights are dimmer than usual, they may not be getting the power they need.
Difficulty Starting Your Engine
Difficulty starting your engine is another sign your battery is about to die. If your vehicle won't start unless you give it gas, or has trouble starting after sitting overnight, the blame might rest on your battery.
Corroded Connectors on Your Vehicle's Battery
Corroded connectors are a sign your battery is nearing the end of its life.
When is a Battery Change Required for Your Toyota?
Typically, a battery should be replaced every four to five years, but this can change based on a variety of factors. If you don't drive as often, your battery can lose its effectiveness and require a replacement sooner rather than later. We recommend that you get it swapped out every three years to ensure that you keep your Toyota operating smoothly.
The expert team here at Towne Toyota is capable of handling any of your service needs, whether they involve your car's battery or another important system. If you want to entrust the care of your vehicle in the hands of a team that knows what they are doing, give us a call! We'll schedule you an appointment as soon as possible.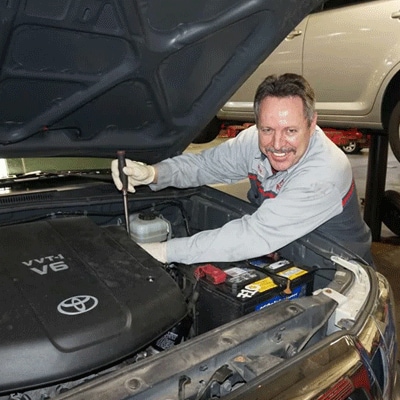 Hours
Monday

9:00 AM - 8:00PM

Tuesday

9:00 AM - 8:00PM

Wednesday

9:00 AM - 8:00PM

Thursday

9:00 AM - 8:00PM

Friday

9:00 AM - 8:00PM

Saturday

9:00 AM - 6:00PM

Sunday

Closed (Shop Online 24/7)